Today is fun for a couple of reasons ...
No gymnastics which means that we aren't running off to anywhere today. Twice.
Laundry and grocery shopping are done so we're clean and fed.
VBS is less than a week away and I think we're ready. More or less.
And last but not least ... It's my SITS day!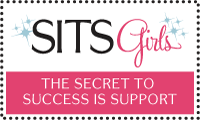 Welcome to all you first time visitors ... have a seat, read a bit and stay awhile!
small things #40 ... baby olympics
Yesterday morning the kids welcomed Baby S through the front door with their typical level of enthusiasm. There were hugs, squeezes, smooches and happy squeals ... and that's before she was even set free from her car seat. I can't even imagine having my day begun with such consistent vocal and physical adoration. And I'm their mother.
As the morning progressed the high-contact loving continued and culminated in a curious activity that can only be described as funny, odd and entertaining. Baby S found herself up against some stiff competition in a no-holds-barred Baby Olympics. Her competitors were Lydia (crawling, cooing and cackling like a baby) and Ashley's baby doll (crawling, cooing and cackling with some help from Ashley). Norah was Baby S's coach and was responsible for helping her get from event to event, while Aaron was the score keeper and judge. There were three events: Chair Standing, Speed Crawling and Stair Climbing.
As I stood in the kitchen, watching the proceedings in the family room, I was struck by a few things:
How well my kids play together,
How silly my kids can be,
How beautiful hysterical laughter is, and
How terribly tolerant Baby S is!
The highlight to the competition, of course, was the awards ceremony. According to the strict scoring by the judge, the athletes were ranked as follows: In third place, Ashley's Baby. In second place, Lydia-Baby. And the Grand Champion, Baby S! As she was propped up on the improptu pedestal, sweet Baby S smiled her lopsidedly toothy grin and clapped for herself. Much to the delight of the competition.
Baby Olympics ... proof that my kids are weird and wonderful.
And Grand Champions in fun.